One of "12 extraordinary Toronto women changing the city's public realm." –Spacing Magazine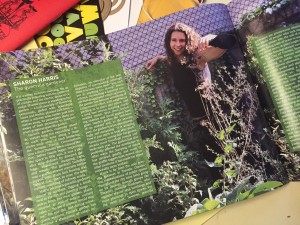 I LOVE YOU TORONTO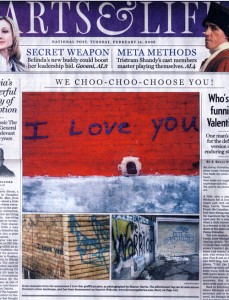 I Love You Toronto, an exhibition of "I Love You" graffiti photographs by Sharon Harris, showed at Dooney's from November 8, 2005 to February 19, 2006. The show sold out; one print was stolen.
A Canadian Press (CP) story by Lorrayne Anthony appeared in newspapers and magazines nationwide, including Maclean's, The Chronicle Herald, The Ottawa Sun, Medicine Hat News, The Cape Breton Post, Canadaeast.com, The Hamilton Spectator, Kelowna Daily Courier, The Record, The Brandon Sun, The Brooks Bulletin, 24 Hours, The Brockville Recorder, and Sharon's hometown newspaper, The Sarnia Observer. The story also appeared on radio stations across Canada.
Stories and announcements appeared on Google News, Yahoo! Entertainment, Torontoist, Said Like Reeds Or Things, canada.com, Blog TO, All Things Girl, My Toronto, Le 321 Blogue, and other fine places on the web.
Other articles appeared in eye weekly, The National Post (images appeared on the arts' section front page), U of T news, The Annex Gleaner, The Villager, broken pencil, and the eyeopener.
Harris appeared on CBC RadioOne's Freestyle, Adam Vaughan's CityTV talkshow, Hour Town, and on CityTV News. The show's opening was announced on CIUT (89.5 FM)'s In Other Words with Myna Wallin. Iloveyougalleries.com was presented to students in Nick Mount's "Literature For Our Time" course at The University of Toronto, and was The Toronto Public Space Committee's site of the month for March, 2005.
Photos from the show represented Toronto in The Capilano Review's city issue (edited by Margaret Christakos) and accompanied Adam Vaughan's contribution to The State of the Arts: Living With Culture in Toronto, vol. 2 of the uTOpia series (Coach House Books).
Stories about the launch of The I Love You World Graffiti Project appeared in The National Post and on Torontoist.