"Bumble bees are dying off, vanishing from our farms, gardens, and parks, where they were once found in great numbers."

-Rebecca Riley, Natural Resources Defense Council Senior Attorney, in a statement regarding the Rusty-patch Bumblebee's new endangered status in the U.S. In Canada, it was listed in 2012.
It is thought that some of our native North American bumblebee populations are declining due to loss of habitat, use of pesticides, pathogens, climate change, and competition from non-native bees. With a few tweaks, even the smallest pesticide-free urban garden can be transformed into a safe habitat for Toronto's native bumblebee species.
FLOWERS
Many gardens contain "easy-care" foliage plants as a result of recent landscaping trends. But flowers, especially natives, are not difficult to grow.
A variety of flowers that bloom from early spring t0 summer to late fall provide a constant source of food.
The nectar in native plants and heirloom varieties is generally more accessible than hybrids. Simple, single, open flowers are usually better than double or densely packed petals.
Flowers of a single species planted together in clumps are easiest for bees to locate.
Plants should be sourced from neonicotinoid-free nurseries.
There are too many bumblebee-friendly plants that grow in Toronto to list, but the following are widely available: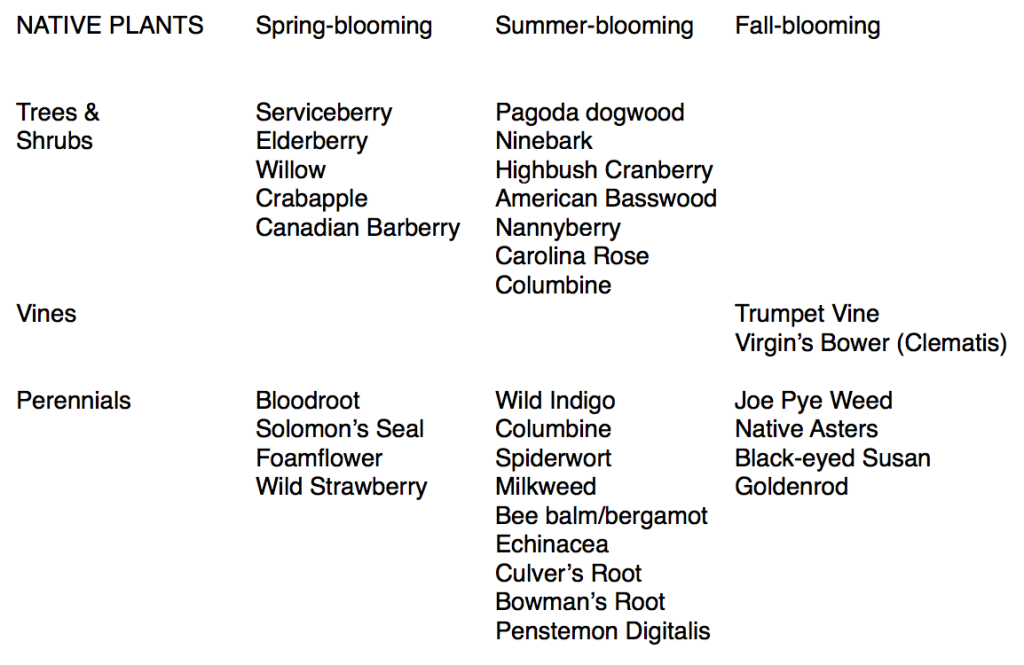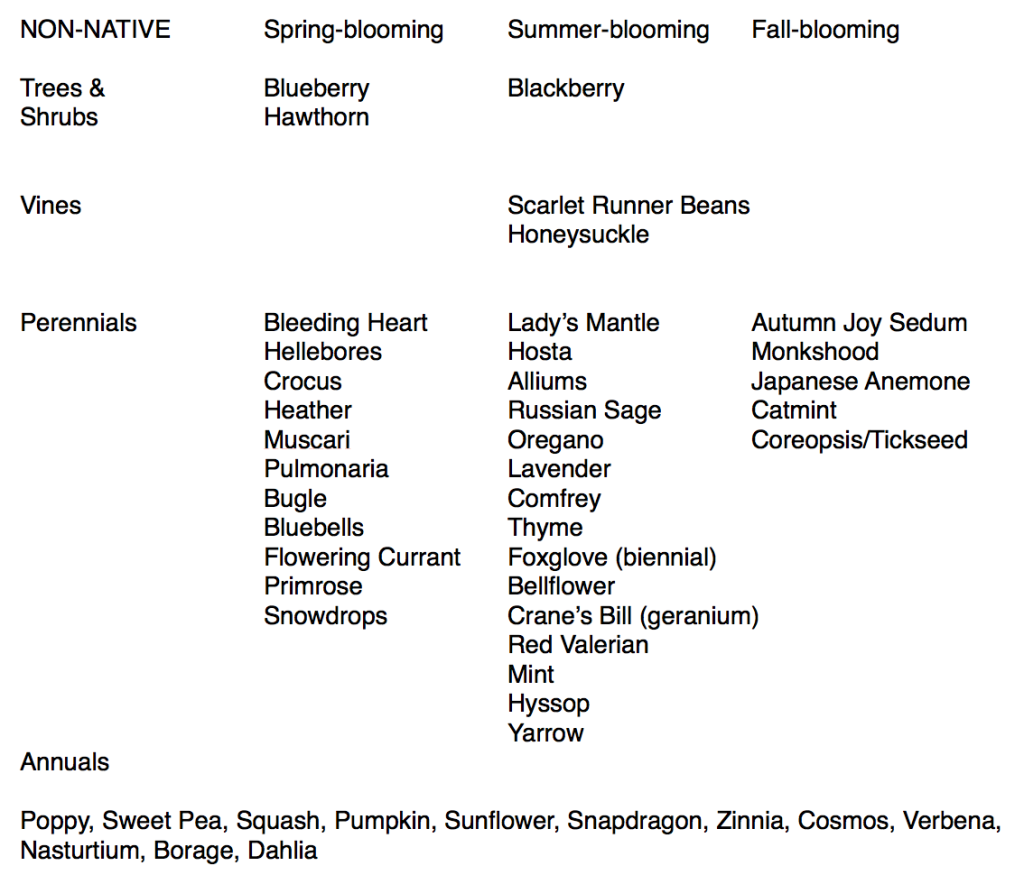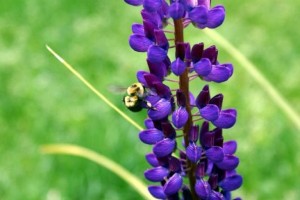 HABITAT
If some parts of the garden are a little "wild" and undisturbed, bees create their own nesting sites.
Small bees overwinter in plant stems, so it's best to not cut back in the fall. Stems can be removed the following spring, and placed in a "wild" spot of the garden.
70% of native bee species overwinter in the ground. To prevent disturbing bees, worms, and other beneficial insects and fungi, it is best to disturb the soil as little as possible. If you use mulch, leave patches so bees can access bare soil. From the Xerces Society:

Bare ground. Simply clear the vegetation from small patches of level or sloping ground and gently compact the soil surface. These patches can be from a few inches to a few feet across, but should be well drained, and in an open, sunny place. A south-facing slope can be a good location. Different ground conditions—from vertical banks to flat ground—will draw different bee species, so create nesting patches in different areas if you can to maximize the nest- ing opportunities.
Sand pits and piles. In a sunny, well-drained spot, dig a pit about 2' deep, and fill it with a mixture of pale-colored, fine-grained sand and loam. Where soils do not drain well, a pile of the sand/loam mixture can help, or make a raised bed. If space is limited, you can fill planter boxes with the sand/loam mixture.

Bee houses can be built from a variety of materials. Many sources of instructions are available on the internet.
Do not use pesticides anywhere in the garden.
Sources: David Suzuki Foundation, Toronto Master Gardeners, Cornell University's Department of Entomology Outreach, The Xerces Society, Savethebumblebees.com, North American Native Plant Society. Huge thanks to the Toronto Gardeners FB group for workshopping these ideas with me! These are not definitive guidelines as I am not an expert; I am offering Toronto-based info which was collected for my own garden design.
UPCOMING NATIVE PLANT SALES IN TORONTO
High Park Native Plant Sale: May 7, 2017 at the greenhouse (11 am-2 pm). TTC/walking/cycling is suggested as there will be many people in the park; the cherry trees will likely be in bloom. Cash only.
Toronto Botanical Garden Plant Sale: May 11-14, 777 Lawrence Avenue East. "We'll be expanding our native plant category by partnering with St. Williams Nursery and Ecology Centre who will be bringing uncommon specimens and high impact native plants."
North American Native Plant Society Native Plant Sales: East end ~ May 20, 2017 at Artisans at Work, 2071 Danforth Ave. (11 am-4 pm). West end ~ May 28, 2017 at Christie Pits (south end), Bloor & Christie (12 pm-4 pm). Debit/Credit & Cash.
NATIVE PLANT NURSERIES
I do not see a dedicated native plant nursery listed within Toronto's boundaries, but most garden centres allot a section to native and/or "bee-friendly" plants. Many of the plants listed above are widely available, but must be free of neonicotinoids ( list of garden centre policies for 2017 coming soon).
Evergreen Garden Market "Toronto's widest selection of Ontario native flowers, plants and trees for gardens of all sizes." Evergreen Brick Works, 550 Bayview Ave.