Yes, hi there. This is the first blog post even though the website isn't finished; kinda hoping it's presentable before Google gets around to indexing it.
Meanwhile, I'm appearing on Ottawa radio station CKCU's Friday Special Blend tomorrow morning (Dec. 6) at 7:35 a.m. Will be chatting with host Susan Johnston and reading poems.
Heading to Canada's capital Saturday to help launch the first title of Chaudiere Books' re-launch, Ground Rules: the best of the second decade of above/ground press 2003-2013, edited by rob mclennan. Ground Rules includes poems by Artie Gold, Mark Cochrane, Suzanne Zelazo, derek beaulieu, Stephanie Bolster, Amanda Earl, Nathanaël, Lisa Samuels, Rachel Zolf, D. G. Jones, Julia Williams, Eric Folsom, Gregory Betts, Natalie Simpson, Monty Reid, William Hawkins, Emily Carr, Cameron Anstee, Helen Hajnoczky, Marilyn Irwin, Stephen Brockwell, Robert Kroetsch and rob mclennan.
Stoked to read with poets Marilyn Irwin and Stephen Brockwell in Ottawa on December 7 at 5 p.m. rob mclennan will host the event, which is co-sponsored by the Ottawa International Writers Festival and The Plan 99 Series at The Manx Pub. There's a nice write-up about the launch in Ottawa Tonight.
Thanks to Mitchell Kaplan for having me on his radio show, Click Here, last night. A recording will be online at CHUO for one month.
The anthology arrived from the printer today! It's available at Chaudiere Books. Co-publisher Christine McNair writes, "I finished all the typesetting whilst 40weeks pregnant and confirmed the cover stock with the printer during labour. (Really.)"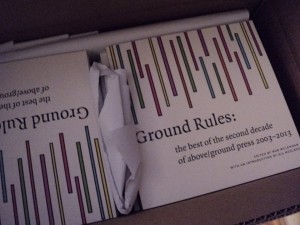 Photo: rob mclennan and Christine McNair