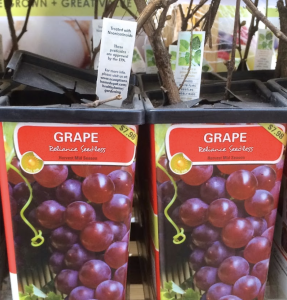 In my post on how to make your garden a safe habitat for endangered native bumblebees, I promised to provide you with a list of garden centres' policies on neonicotinoid use, as I couldn't find an updated round-up for the 2017 growing season. Buying plants treated with neonics only negates the best-intentioned bee-friendly garden plans. Many emails, phone calls, and even online live chats later, here are the stores' responses, which I've left in their own words.
RONA
Neonicotinoids are pesticides believed to have adverse effects on bee populations. For a list of plants treated with neonicotinoids, please see a garden centre employee. MORE THAN 95% OF OUR PLANTS WERE GROWN WITHOUT THE USE OF NEONICOTINOIDS. RONA congratulates it suppliers for reducing the use of these pesticides and for helping our customers create bee-friendly gardens. Our suppliers continue to work on ways to reduce the use of pesticides through the use of integrated pest management strategies.
(Email response)
WALMART
The items purchased are free from neonicotinoids. Our partnered local grower Avon Valley does not use neonicotinoids on any plants or flowers.
(FB Page response)
HOME DEPOT
The Home Depot Canada is deeply engaged in understanding the relationship of certain insecticides on our live goods and the decline in the honey-bee population. We've been in communication with government agencies, the insecticide industry and our suppliers to understand the science and monitor research. Because we are committed to safeguarding the health of these critical pollinators, we are actively working with our live goods suppliers to find alternative insecticides. In addition to requiring all of our live goods suppliers to label Neonicotinoid-treated plants, our suppliers have significantly reduced the number of plants that they treat with neonicotinoids. We will continue this decrease regulation until we have a complete phase-out of neonicotinoid use by end of 2018, unless federal or provincial regulation requires neonic treatments, or if undisputed science proves that the use of neonicotinoids on our live goods does not have a lethal or sublethal effect on pollinators.
Regards, Returning Plants: We are committed to taking care of our customers. If a customer wants to return a plant as a result of reading a story, we will honour this.
(Email response)
LOWE'S
Lowe's did not get back to me with info for 2017. Response to my first email said to call the local store or to email head office. When I called the local store, an employee who had never heard of neonics directed my call to a place where it was never answered, without voice mail.  Head office did not write back. In an online 'help' chat, I was advised again to call my local store or to contact head office. I gave up.
In a 2015 Friends Of The Earth press release, the environmental organization listed Lowe's commitments as such:
A time-bound phase out of neonicotinoid ("neonics") containing products in shelf products and plants, to be completed by the Spring of 2019, as suitable alternatives become available. For nurseries, Lowe's will phase-out neonics for bee-attractive plants, and plants where regulatory requirements do not require the application of neonics (certain states require the application of neonics on certain plants and nursery material). Lowe's plans to implement this phase-out as soon as is practicable.
Redoubling pesticide management efforts and the addition of an application reduction plan with plant suppliers, including the collection and sharing of growers' best practices around use of biological controls and integrated pest management ("IPM") practices, and research into best alternatives. Nurseries will be required to disclose to Lowe's the amount of pesticides used per acre, or a similar metric.
Increased focus on consumer education initiatives including in-store distribution of EPA and Pollinator Partnership pesticide brochures and product tags which will highlight the health of bees and other pollinators.
Funding of pollinator gardens through the company's philanthropic and volunteer programs.
Disclosure of these efforts in its 2014 Corporate Social Responsibility Report.
Continued dialogue with Domini, Trillium and Friends of the Earth focused on implementation and public reporting of these commitments.
LOBLAWS/NO FRILLS
"There is no generic info…growing information is different from plant to plant. Call us and provide the barcode. We can look it up."
(Phone conversation, after two unanswered emails)
CANADIAN TIRE
"Every store is individually owned and sources plants from local growers. You have to contact each store."
(Phone conversation with head office, after unanswered email)
Local store manager had never heard of neonicotinoids. When I said I was writing a "round-up" of garden centres, he replied that they have Roundup™. He said they source from 25 different nurseries, from Florida to Niagara, adding that they're "earth-friendly."
Information presented in this post is not an endorsement for any particular garden centre. These policies apply across Canada, but next, I'll do a round-up of Toronto's independently-owned nurseries.